10 Nov
This post, like it's subject, has gradients. The first bit is spinning. If you aren't interested in spinning, skip to after the second picture. Then we have knitting. If you aren't interested in knitting, skip to the photo at the end. Unless you aren't interested in pregnancy either. In which case, skip the post entirely.
I started with this fibre
Which was dyed in a gradient by Midnight purls. It's Polwarth combed top, so lovely and soft. On getting this, I became determined to spin and knit a gradient shawl. The timing of me setting out to start this coincided with my learning how to spin long draw. So I decided to try a long draw spin on this, which is a great option for yarn for a shawl. Unfortunately, I didn't think about the combed top when I started. Combed top isn't the ideal prep for long draw, especially when you're just starting out with long draw. So I went with spinning from the fold, which is still a long draw technique, just rather slower than my original plan.
Because it was my first attempt, it wasn't the most even yarn I've ever spun, but I was still rather pleased with the result.
Now the knitters have joined us. Hello knitters! I picked the Seaside Shawlette pattern to knit this into. For the gradient, I really needed a triangle pattern, and I wanted a reasonably small repeat, so that I could add repeats as necessary, to make sure I used the full gradient. In the actual knitting, I added one repeat to the main body of the shawl. I had a bit of the grey yarn left over, but not too much, and definitely not enough to have added another repeat.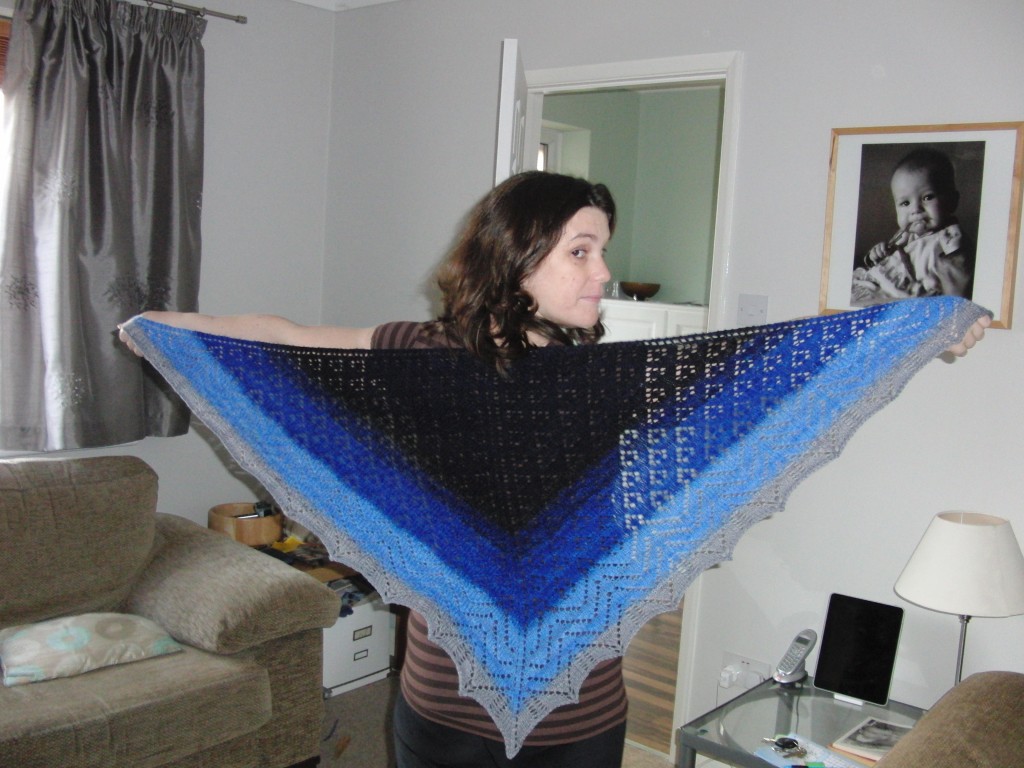 And for those who just want to see the bump, this is a picture I got my mum to take of my bump from the side whilst she was taking shawl pictures for me.